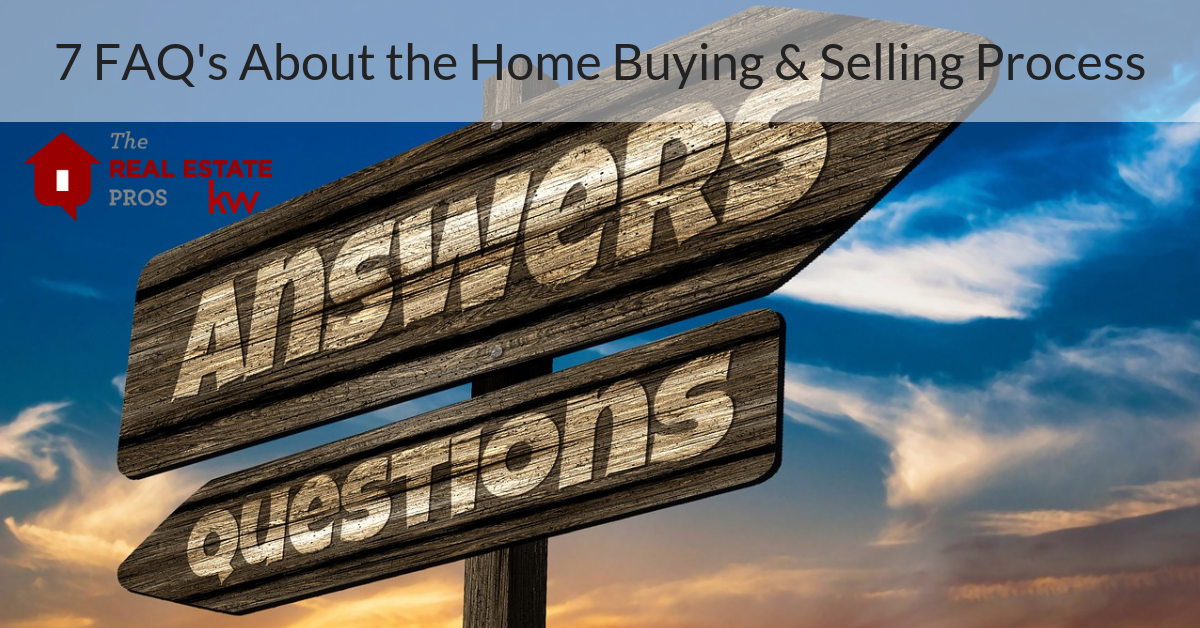 From the moment you begin looking at homes to buy or thinking about selling your home, there are tons of questions that flitter through your mind.
The Real Estate Pros of Keller Williams help buyers and sellers with the process every day, so we are your resource and champion while buying and/or selling.
We thought it would be a good idea to share the Top 7 frequently asked questions about the home buying & selling process that we receive almost daily AND give you the answers. Knowledge is power!
The more you know, the better your decisions can be. Let's get started:
7 Frequently Asked Questions About the Home Buying & Selling Process
#1 Buyer – If I offer to pay the asking price, is the seller obligated to sell their home to me?
No. The asking price is set by the seller but they are not obligated to sell at that price. The asking price is there so you know what they are wanting for the home. They may sell it for more or less or the exact asking price. It's all in the negotiations.
#2 Buyer – If I get an accepted offer from the seller, can they still show the house to other buyers?
Yes. This is 100% up to the sellers. They can continue to market the home on the local MLS and subsequent 3rd party websites as well as accept showings for other potential buyers. However, it must be disclosed that they have accepted an offer (Pending status on the MLS).
#3 Buyer – Why would a seller continue to show a home that has an accepted offer?
The sellers can accept "Back-Up" offers on their home. These offers do not come into play unless the current offer is mutually released between the pending buyer and seller.
This is fairly common practice. Seller's can lose a lot of time on the market when they accept an offer and then it falls through. Continuing to show the home and accept back-up offers could be in their best interest.
#4 Buyer – Who pays the commission to my REALTOR when I am buying a home?
The commission is typically paid by the seller for both the Buyer and Listing Agents.
#5 Seller – Can I determine what my home is worth by using an internet website?
NO! Third party websites like Zillow and Trulia simply use an algorithm made up of public information they can scrap from online. These are not accurate.
There is no way a company that is headquartered in California or Florida can know what a home in Pendleton, Fortville or McCordsville Indiana is worth.
Remember, real estate is a VERY local industry. To get a general ballpark idea of your homes' value, visit TheRealEstatePros.com or better yet – call us at 317-572-5589 and one of our Listing Specialists will be happy to meet you, tour your home and give you an accurate value!
#6 Seller – Should I price my home higher to leave room for negotiations?
This is an all to often asked question and a common mistake made by sellers. Pricing your home RIGHT for the local market is how you sell your home fast and for the most money.
Overpricing your home can result in a stale listing that buyers and Buyer's Agents avoid! Overprice can cause your home to be on the market a lot longer and sell for a lot less than market value, in the end.
Trust your agent – they can show you the same facts an appraiser will use to find your home's value. Read this article for a more in-depth answer: How to Price Your Home to Sell.
#7 Seller – I want to hire the agent who charges the lowest commission, right?
First of all, understand that the commission is negotiable. Period.
Second of all, it may sound cliche but remember the old saying – "You get what you pay for." This is your home – one of the biggest investments we make in our lives.
Do you think an agent that accepts a low commission will negotiate aggressively on your behalf when it comes to the sales price of your home? make sure you receive the best service? market your home aggressively to get it sold as fast as possible and for the best price?
Look at it this way: if you were working for a reduced salary, wage or rate from your "normal", would you work as hard as you "normally" do? Probably not – it's human nature. Some of the bells and whistles may be excluded to trim costs. Not good!
There are some agencies out there that will simply put your home on the local MLS and cross their fingers. They can take less because they do a lot less!
Choosing an agent solely based on a lower commission rate can be a big mistake made by sellers. Again, you get what you pay for.
Closing Thoughts
There are no dumb questions when you are buying or selling real estate. To make the best decisions, you need to be informed and educated to the process.
That's the goal of The Real Estate Pros of Keller Williams. We want to build relationships and make Clients for Life!!