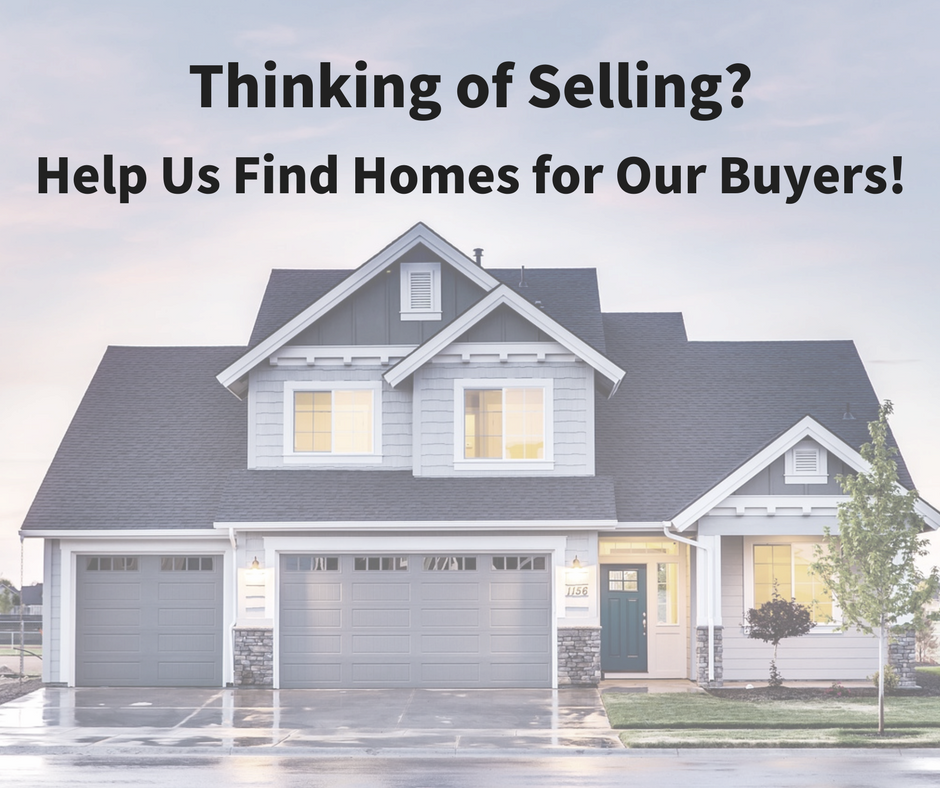 The Real Estate Pros are proactive in finding homes for our buyers – even if those homes aren't on the market yet!
Are you thinking of selling?
Does your home fit the needs of one of our buyers?
Maybe you can help us… below is a list of homes we are searching for to meet the needs of our buyers.
Give us a call today and we'll come out and meet you, tour your home and give you a FREE Comparable Market Analysis. Let's make a MATCH!!! 317-572-5589
South Anderson—4 Beds, 2 Baths

$150,000

Summerlake or Pendleton Primary School— Ranch, 3 beds, 2 baths

$140,000

Condo— South of Pendleton

$80,000

Pendleton or South Anderson—

3 Beds, 2 Baths,

$150,000

Fishers—3 beds, 2 baths

$150,000

Muncie/Anderson— 3 beds, 2 baths, acreage,

$200,000 max

South Madison Schools— 3 beds, 2 baths,
Wood burning fireplace, at least an acre

$220,000

Pendleton — 3 beds, 2 baths, sizeable yard, at least a 2 car garage
Up to $200,000

Property in Anderson—can be used as a rental, current tenant is preferred
$30,000—$70,000

Condo/House in INDY south of 465— within Marion county limits

$40,000—50,000

Muncie or New Castle— 3 beds, 2 baths, Updated and move in ready…
$180,000

Pendleton area—Ranch home, 3 beds, 2 baths, $150,000

Rural Anderson— barn/garage preferred,

$80,000

Pendleton— 4 beds (3 okay if there is an office or at least two living areas), 2+ baths, large yard

$250,000 or under

Fortville to Hagerstown—wants some land/acreage

$150,000

Pendleton Schools—2+ acres, 3 beds, move in ready,

$140,000

Pendleton Schools—Garage, 3 beds, updated and move-in ready

$150,000

Pendleton Schools—Open concept, 4+ beds2+ baths, basement, 1+ acres not wooded

$400,000

Pendleton or Lapel Schools—1 acre, open concept, pool

$300,000

Markleville-Pendleton – Nice, large Ranch w/Pole Barn

$800,000

Pendleton – Commercial, small bldg, one story

$200,000

Pendleton Schools – Home with large yard and swimming pool

$350,000

Middletown-Markleville-Pendleton – Country, 1+ ac, fireplace, 3 beds, 2 bath

$250,000

South Anderson – 3 beds/2 bath

$85,000 to $100,000

Anderson, Daleville, Muncie – 3 beds, 2 baths

$75,000

In Town Pendleton – Several clients. Range from

$150,000 to $250,000

Edgewood – 3 beds, 2 baths, fireplace

$140,000

South Anderson, Pendleton, Fortville, Greenfield – basement, attached garage

$100,000